Scenting Your Special Day
Have you ever had a smell instantly take you back to a memory, a place, or even a person? There is no denying just how strongly scent can be tied to memories, and your wedding day is something you will want to remember for the rest of your life. Many couples will keep and dry their flowers, freeze a piece of the cake, and hold onto any other little fragments from their big day that they can in order to keep tangible reminders of the best day of their life. All of this begs the question – why not give your wedding day a custom scent? By tying a scent to your special day, you can be brought back to it every time you light your custom candle. Not only is it a great keepsake for you, but these candles make great wedding favors for your guests, as well.
More Than Just a Candle
Corrie Varner and her husband Eric were looking for a meaningful favor to give their guests when they renew their vows in August of this year. When Corrie visited Augusta Candle Company for a girls' night out, she realized that a custom candle would make the perfect gift.
"It didn't take much to get Eric on board," Corrie said. "We decided to pick 3 different scents so we could each pick one of our own, and then come together and choose one that blended our choices."
They ended up selecting Mulled Cider, Coffee, and Pecan Pie – each scent holding a special place in their hearts. Mulled cider brings back memories of the apple orchards in Pennsylvania, where they grew up, fell in love, and established their family. Coffee takes them back to where they first met and worked together, getting to know each other and falling in love over the coffee bar at Sheetz. Pecan Pie represents their big move to the South and putting roots down in Georgia.
"The whole experience has been an absolute pleasure from start to finish," Corrie said. "I truly can't wait to share our creation (or 'Candle Baby' as my husband calls it) with our friends and family."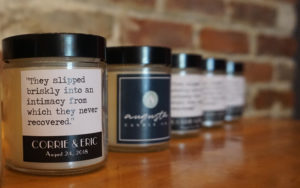 So, How Does It Work?
First, make a date out of it! Bring your honey down to Augusta Candle Co. and peruse our 100+ scents. Pick your favorites and mix together a unique combination that you both love. The best part about the whole process? Every element of this candle is customized and curated by you. You can pick the container, the scent, and even have a label specifically designed for you.
Stop by Augusta Candle Company today to learn more! Our team can guide you through the entire process and help ensure that your vision is brought to life for your big day.